The CTR Group's relationship with Eastern Europe has grown over the years, not just as trading partners but in the growing workforce employed both here in the U.K and in mainland Europe. Many of our staff have family and friends caught up in the Ukrainian conflict currently taking place.
Wanting to help in some way, we have taken the initiative to utilise our workforce and logistics capability by collating much-needed donations from colleagues, working partners and the broader community. Our lorries are currently leaving for the German/Polish border.
We are undertaking a determined and sustained effort to get supplies safely to those who need it most. We are perfectly placed to fulfil weekly deliveries, so we are doing what we do best; collecting, sorting and delivering. And trying to make a difference, however small.
We had to get involved, we felt like we just had to do something to help. Initially we got in touch with a Polish community club in Staffordshire as well as the local Rotary Club, as they already had donations coming into them but they didn't have the knowledge or the infrastructure to organise and move the donations on.

Mark Fitzgerald, Managing Director of CTR Group
Our logistics network is already in place across Europe, our people are used to dealing with the paperwork and customs, and we can get these donations to the border safely and quickly, to where the Polish Red Cross will take over.
Some donations will stay within Poland to help those who have already crossed the border, and the rest will head into the Ukraine. Donations have been flooding in, from the local community and our charity partners and retailers. We will be taking lorries over each week for as long as they are needed.
To get the donations processed and onto the lorries as quickly as possible, many of our staff have been working out of hours and at weekends, with family members and friends joining them to keep on top of the donations.
Specifically we are looking to contribute brand new items that the Polish Red Cross have advised are in urgent need.
These are:
Medicines (painkillers, antiseptic creams etc.)
Bandages, plasters etc.
Rescue stretchers
Gloves
Tents
Sleeping bags
Pillows and duvets
Camping beds
Warm blankets
Torches
Batteries
Lighters
Warm socks
Warm shoes (size 10+)
Sanitary pads
Diapers
Formula milk for children
Wet wipes
Generators
Canned food
If you are able to help in any way, would like to make a donation or sponsor the costs of a vehicle making the crossing please contact Renata Pierscinska at CTR Group, you can reach her by email on renata@ctrgroup.co.uk or directly to her mobile on +44 7588 504468.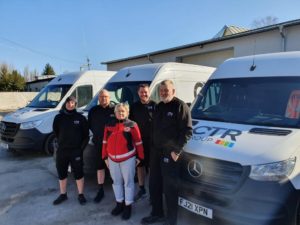 Our team handing over donations to the Polish Red Cross team